Facts about "The Destroying Angel"
Orrin Porter Rockwell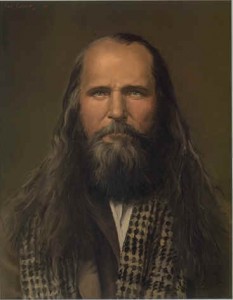 Porter Rockwell operated the "Hot Springs Brewery Hotel" near the point of the mountain for eight years while he lived in Lehi. A Utah State Historical Marker stands there now identifying the site.
Joseph Smith promised Porter that if he never cut his hair his enemies would never harm him (Prophecy fulfilled).
Porter Rockwell served as Joseph Smith's and Brigham Young's bodyguard.
Porter Rockwell was one of the first converts to the LDS Church, and was a close friend of Joseph Smith.
Veteran character actor John Carradine portrayed Porter Rockwell in the 1940 20th Century Fox Film Classic "Brigham Young."
Porter Rockwell was ordained a seventy of the Church, a position he held throughout his life.
Porter Rockwell had four wives but was never a polygamist.
Porter Rockwell was accused and jailed (later acquitted) for the attempted assassination of Missouri Lt. Gov. Boggs. Boggs issued the infamous "extermination order" to the Mormons. (Joseph Smith said he knew Porter didn't shoot Boggs because Porter wouldn't have missed.)
At Porter Rockwell's funeral, Apostle and future Church President Joseph F. Smith spoke and said the following about Porter —
"They say he was a murderer; if he was he was the friend of Joseph Smith and Brigham Young, and he was faithful to them, and to his covenants, and he has gone to Heaven and apostates can go to Hell… Porter Rockwell was yesterday afternoon ushered into Heaven clothed with immortality and eternal life, and crowned with all glory which belongs to a departed saint. He has his little faults but Porter's life on earth, taken altogether, was one worthy of example, and reflected honor upon the church. Through all his trials he had never once forgotten his obligations to his brethren and his God.
Porter's Place located in Lehi Utah is the official landmark of Famous Porter Rockwell. Explore our website to learn about Porter Rockwell, shop the online Porter Store, or view our menu!